Of exam week.  Wow.  Here is the breakdown of my study schedule for the past few days.
Friday:  12 hours including 6 hours at Augie's coffee shop listening the sweet sounds of Adele while learning drugs and sipping pear tea.
Saturday:  blessed Sabbath day of rest and two hours of pathophysiology Saturday night. 
Sunday:  A marathon of 14 hours in the zone and not hitting the wall.  Brilliant.
Monday:  14 hours at alumni hall.  The battle against neuropathology and its  cousins pathology and pathophysiology with a bit of kickboxing.
Yesterday:  11 hour affair with generous helpings of psychopathology, microbiology and neurology and some psychopathology and pharmacology on the side…along with some of my sister's delicious brownies.
The rest of the week:  Hoping for the best…
In micro terms, I have reached the stationary phase.  In the realm of pharmacology, I have reached Vmax.  All receptors are saturated and occupied with random bits of information.  How does the brain remember that transposition 14 to 18 for follicular lymphoma, shigella toxin cleaves a 60s ribosome, phenoxybenzamine is an irreversible alpha antagonist, the Meynert nucleus is rich in acetylcholine and honeymooner's palsy causes tricep weakness while saturday night palsy does not?  The same God who made our brains able to remember random, minute details will enable us to to get through exams.
So, what great piece of information can I bestow upon you? Well… that Anthropologie has free shipping and returns until Sept. 30.  For those of you who have not discovered the wonderful world of Anthropologie, that needs to be remedied immediately.  There are a pair of snake print wooden heeled wedges that I've been eyeing for awhile.  Sounds like a FABulous I-survived-exam-week present to me.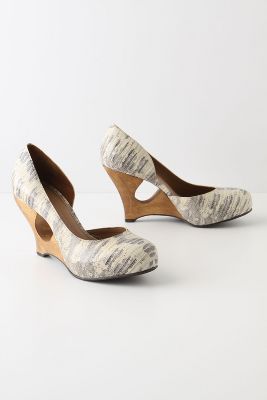 So what do I see looking down the barrel?  I see a future blissful weekend free of studying, celebratory shopping with some classmates, and time with my husband in some fabulous new wooden wedges.  Oh yeah, I guess there are a few questions I have to get through first before those shoes grace the halls of alumni hall…